The industry has spent considerable resources looking for effective ways to mitigate the effects of ad fraud. I use mitigate deliberately because just as with cyber fraud or financial fraud, there is no way to totally eradicate the problem: you can only hope to stay one step ahead of the bad guys.
Most ad fraud countermeasures have centred on rule-based methods and these are effective ways to combat simple ad fraud activities. However, the ad fraud attempts are becoming more sophisticated and traditional countermeasures are inadequate today.
An AI-based approach
As ad fraud attempts become more sophisticated and difficult to detect, so must our fraud detection mechanisms evolve in tandem and the only way that this can be achieved is using artificial intelligence (AI).
An AI-based ad fraud detection system actually starts with a rule-based approach as the base but through self-learning, builds layers of defence that learn from each suspicious activity that it detects. An AI-based model also has the advantage of being able to view patterns on many more dimensions than a traditional system.
Traditional rule-based models typically analyzes activity on between one to three dimensions. An AI-based model analyzes over 80 dimensions at a time, enabling it to detect extremely sophisticated ad fraud patterns. With self-learning, AI-based models can evolve as ad fraud patterns evolve to evade traditional systems.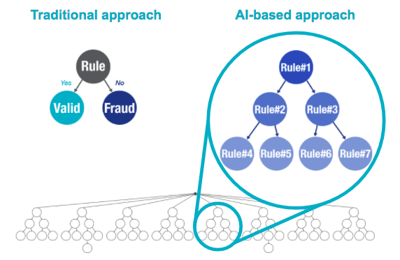 A Real World Study
To demonstrate the advantages of an AI-based approach, Appier examined data on its own network over four months from May to August this year involving over 4 billion campaign data points including ad clicks and app installs. What we found was that the AI-based fraud detection model was able to identify twice as many fraudulent transactions as the traditional rule-based model. The AI-based model also proved to be more cost-efficient for advertisers, yielding a 3.6 percent higher return on advertising spend (ROAS) than the traditional model.
The greatest advantage of AI though, was its ability to detect sophisticated ad fraud patterns not previously reported. On pattern that our AI system flagged is what we call "the chameleon". This is where dishonest publishers disguise themselves as legitimate publishers at first, only to generate fraudulent installs at a later date.
Another suspicious activity detected by our AI is what we have termed "inventory burst". With this pattern, a fraudulent publisher will generate an abnormally high inventory count in the absence of an appropriate level of in-app registration activity.
Final Word
You can download the full report of Appier's study here. Ad fraud is costing the industry billions of dollars and has become extremely difficult to detect. Traditional rule-based methods are limited in their ability to detect new and increasingly sophisticated ad fraud patterns. An AI-based approach with its ability to analyze multidimensional data and with self-learning is a better approach to fighting ad fraud.