Conversational marketing has brought marketers closer to their audiences than ever before. What started as customer service live chats on company websites has evolved into brand accounts on popular messaging apps where businesses can meet their customers where they are to answer their questions around the clock.
The trick is figuring out how to send out messages to your customers without overdoing it. Any abuse of this very personal line of communication could backfire on marketers, as customers could deem repeated messages that are irrelevant to them as spam and end up blocking the account.
In this post, we use the example of a fictional beauty and health company to illustrate how marketers can use broadcast messaging on instant messaging apps optimally and cost-effectively.
Is there a one-size-fits-all broadcast message?
The answer is no. Unless it is an introductory message or a major company update, there is no one-size-fits-all message that will pique every audience member's interest. So, as many marketing leaders and experts have advised, don't use a one-size-fits-all approach when it comes to marketing — including conversational marketing.
The logic is simple: broadcasting the same message to your audience risks sending irrelevant content to specific members. For instance, if a beauty and health company has a coupon for a new curly hair treatment oil they are promoting, they wouldn't want to blast it to everyone on their contact list. Why? Because a curly hair treatment oil is useless to their customers who have straight hair or no hair.
No, tailor your broadcast messages instead
The company should be targeted in its approach and only send the coupon to those who are interested in products for curly hair. And more and more, this is what customers have grown to expect: only getting messages with information relevant to them. Companies who can achieve this level of personalization will continue to enjoy their customers' patronage, while those who cannot will likely lose out over time.
What are the benefits of tailored broadcasting?
There are two quantifiable benefits of a tailored approach to broadcasting: better conversion rate and lower cost.
Let's continue with our curly hair treatment oil example to highlight what we mean. Suppose you have 10,000 people on your contact list you can broadcast to, but only 3000 of them are interested in products for curly hair. If you broadcast to all 10,000 of them about the new product launch, your conversion rate will likely be 30%.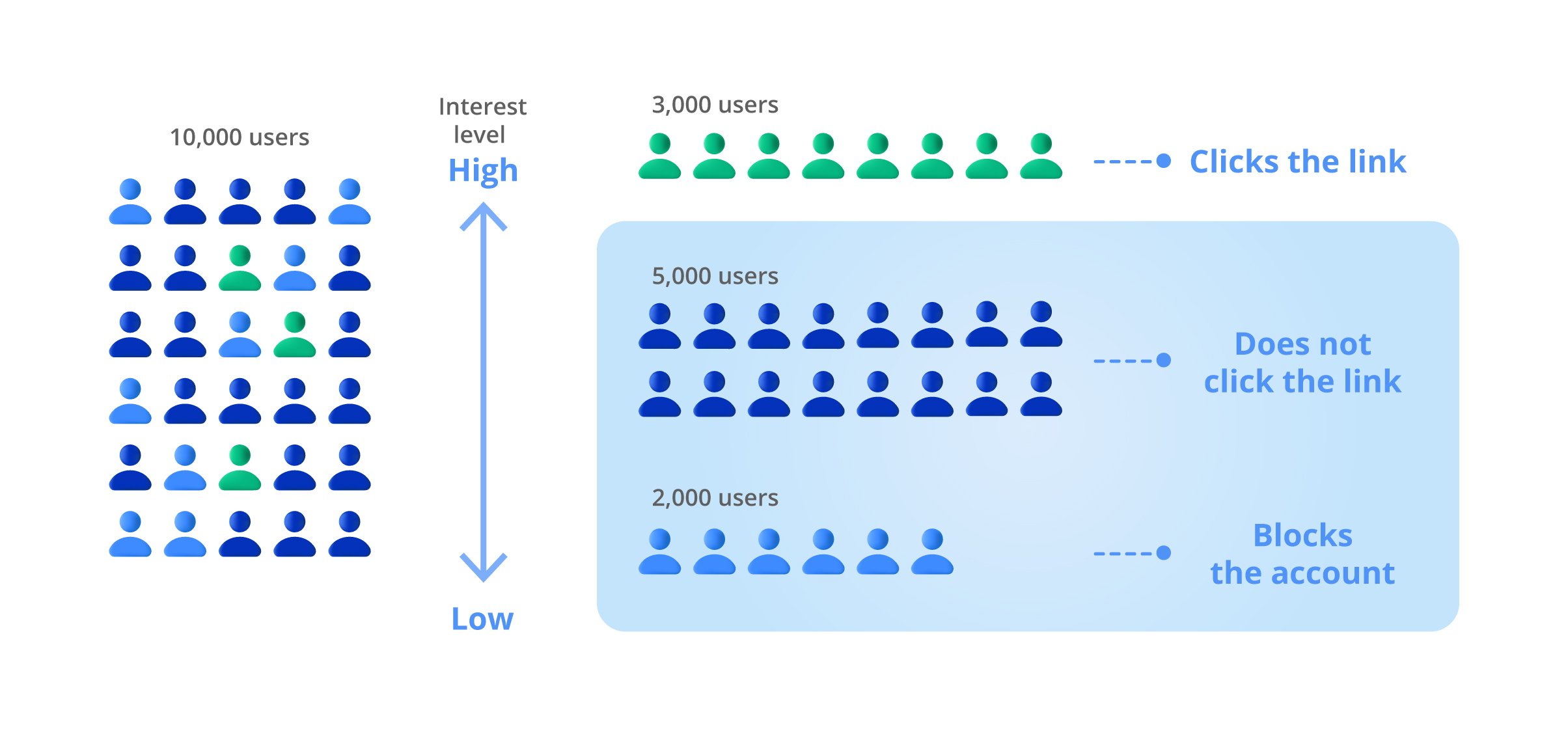 However, if you only broadcast to the 3000 people you know have an interest in these products, then your conversion rate, should you be so lucky, will be 100%.
On the cost side, since many instant messaging apps may charge based on the number of contacts you send out broadcast messages to, the fewer people you reach out to, the less you have to pay.
How do you tailor your broadcast messages?
To tailor your messages, you have to first know your audiences well. Only then can you be confident that the message you are sending out is relevant to them.
There is a manual way and an automated way to do this, but the logic is the same. Collect the information your audience members provide to you, analyze them for clues and patterns about each audience member and their behavior, tag them with the respective labels and create segments based on these shared interests.
Once you have created these segments, you can easily choose to broadcast a relevant message or promotion only to them.
You can do it effectively with AI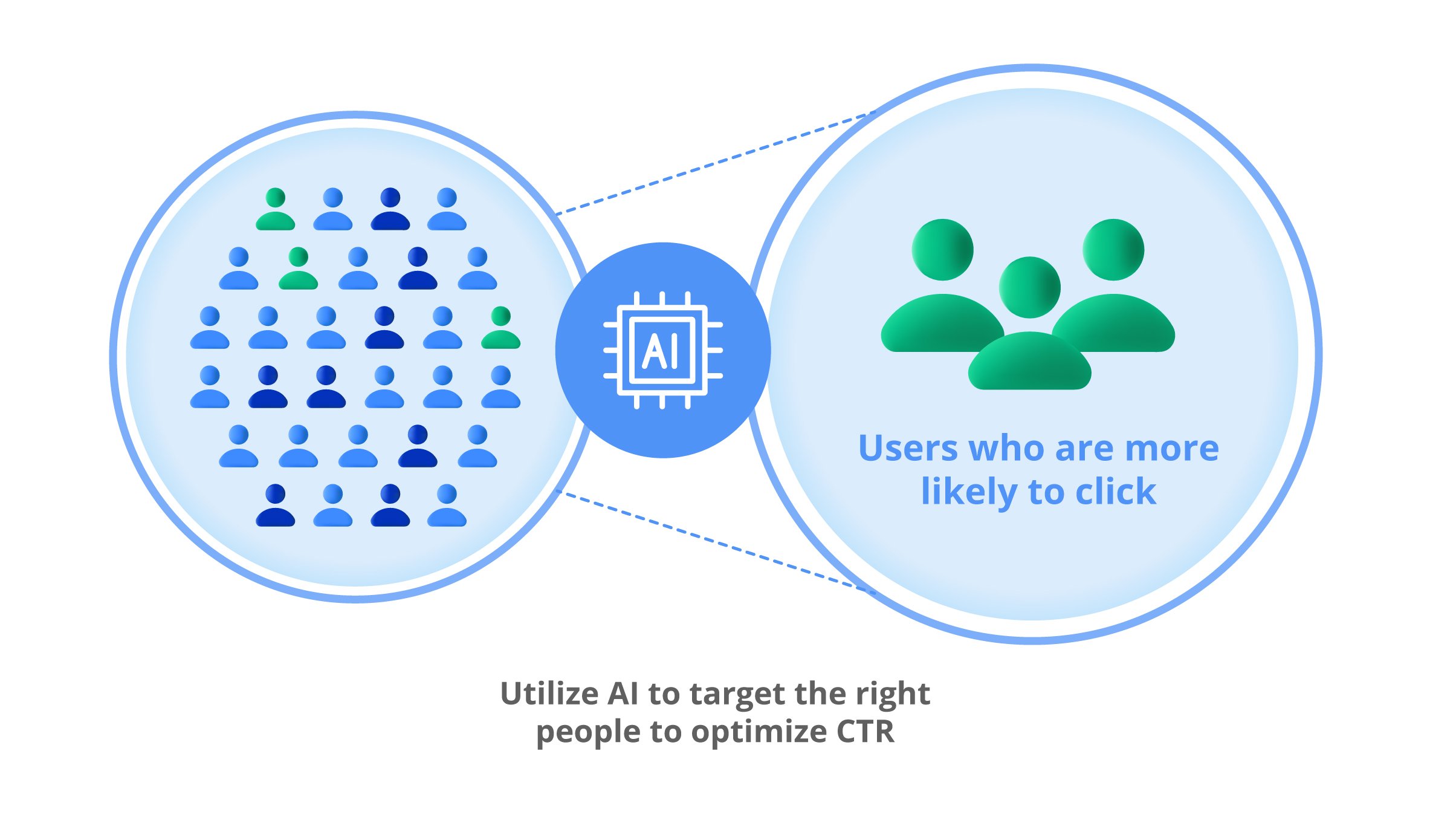 Appier's conversational marketing solution BotBonnie has a new feature called the "AI click optimization." Its name refers to the ability of the new AI feature to get more clicks (or conversions) for your broadcast messages, and this is an automated way to go about targeting your broadcast messages.
Here is how it works:
Marketers who are interested in leveraging this feature will let the Appier team know. We will determine, based on broadcast history (both volume and content), whether there is enough data for our AI model to make accurate predictions for future broadcast campaigns.
Once it is determined that your account qualifies for this feature, the BotBonnie solution will automatically detect eligible broadcasts.
With each broadcast, it will provide a conversion prediction and a recommended plan by using its AI algorithm to calculate each target audience's likelihood to click. The goal is to target as many people as possible who will click while skipping those who are less likely to click.
Marketers broadcast the message to the identified target audiences and after running the campaign, the BotBonnie platform will automatically generate post-broadcast reports for analysis.
In our preliminary roll-out of this new feature, we have found a significant average click (or click-through rate) increase when comparing the experimental and control groups of the same campaign and how this AI feature optimizes performance.
We saw that the average click-through rate was 92% higher (at 6.55%) for the AI-powered approach than the manual approach (at 3.41%). This is a result of our AI-powered adjustment of the broadcast audience to only target those that are likely to click, leading to a better performance for the broadcast content.
Our current focus is on deploying and optimizing this new feature on LINE, the most popular messaging app in both Taiwan and Japan, with KakaoTalk and WhatsApp to follow. If you want to be an early adopter of this new feature, reach out to us now and let's talk!